Rajiv Gandhi University of Health Sciences, karnataka
The central Council of Health has recommended establishing Health Universities in all the States in the Country. Keeping this in background the Government of Karnataka passed an Act in 1994 to establish the University of Health Sciences and Rajiv Gandhi University of Health Sciences has been established in 1996.
The objective of the University is to upgrade standards of teaching research, publication and dissemination of knowledge in all branches of health sciences and bring all the health science institution under one umbrella to standardize and upgrade the standards of health science education.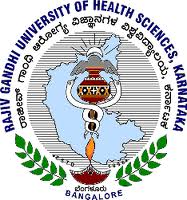 The University initially set up an affiliating body and in a phased program, it envisaged to develop a campus of its own for advanced teaching, traning and research in specialized fields of Health Sciences. The University has established a Curriculum Development Cell, Research Center and Library & Information Center for the development of knowledge in the field of Health Sciences and to promote qualitative Education and Standards
There are 548 Colleges conducting undergraduate courses 129 institutions conducting Post Graduation Courses and 6 institutions offering super Speciality courses in the field of Health Sciences such as Medical, Dental, Nursing, Pharmacy, Physiotherapy, Ayurveda, Homoeopathy, Unani & Para-Medical under the jurisdiction of R.G.U.H.S. in the State of Karnataka
The Bar coding system of examination introduced in the University is the first of its kind in the country. The helinet Library Consortium established in the university has enabled colleges to access various International Journals at a very nominal cost. Computerization has been taken up on a top priority basis in the University right from its inception for the transparent administration of Examination system and academic activities. The in house software has been developed for UG, PG and super speciality courses offered by this university. New software has also been developed for PG entrances test and also online transmission examination has been implemented successfully from the year 2004.
Ph.D. programs in the faculty of Medicine, Dentistry and Pharmacy had been introduced in the year 999-2000. The university proposes to have collaboration with other internal universities in 'faculty and student exchange programme' and with research work in the coming years.