LIBRARY & INFORMATION CENTRE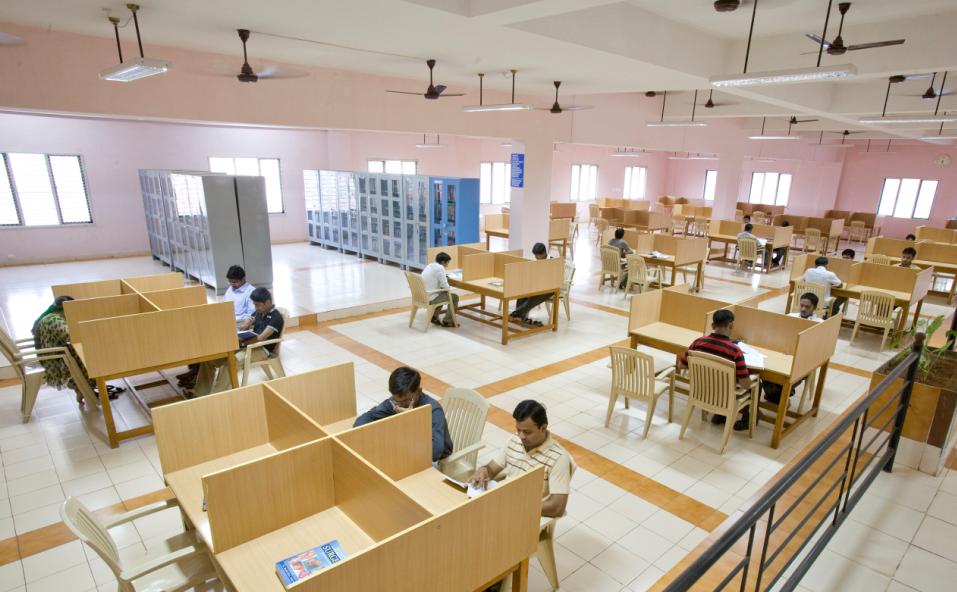 "A good book is a precious life-blood of a master-spirit, embalmed and treasured up on purpose to a life beyond".
JOHN MILTON
The creation and execution of the SNMC Library was inspired by ideas like: acquisition of relevant knowledge, intellectual exploration and flights into the limitless skies of research. As on today this library offers to any aspiration in the field, a pool of 20106 books that are meticulously chosen for their contents; added to this are 2044 back volumes of relevant fields and this unit has been subscribing to as many as 114 well known national and international journals. Almost all the principal medical branches are covered by these reading materials.

WORKING HOURS
True to the spirit of learning the Library is open to all the aspirants, especially to the faculty and students and researchers.
# Week Days- 09 a.m. to 10 p.m. (Monday to Saturday).
The Personal Books Reading Room offers services round the clock including Sundays and General Holidays.
SECTIONS OF THE LIBRARY
The Library has been suitable divided into following sections:
Book Stack
Reference Book
Periodical Section
Back Volumes
Circulation
Internet/Digital Library
Video Library
Xeroxing
For quick and easy identification of the reading material, the world famous classification is followed here: Dewey Decimal Classification System. For Cataloguing of Books AACR2 is incorporated. Searching for any information OPAC is helpful.
MEMBERSHIP
Teaching and non-teaching faculty & students of the college & hospital automatically get membership. Local practicing medical doctors can enroll themselves as members access to the reading services of the Library. Visitors as well as outsiders can also make use of the library.
Negotiations are on to establish an educational hot line to other Medical College Libraries for some suitable links for exchange of matching material (both print as well as computerized information) to enable sharing of knowledge and further enhancement of the needed material.
ACCESSING ONLINE PUBLIC ACCESS CATALOGUE (OPAC).
The Library has acquired "EASYLIB" a Library Management Software, to automate all its functions. OPAC can be used to browse/search for an item (book/non book) along with its details and the availability and also reserving facility to the library members.
SERVICES
Department Library Services.
Book Bank Library Services.
Current Journal Services.
Binding Service.
Reprographic Service.
Video Library Service.
Electronic Public Access Catalogue (EPAC)- The Library Search Engine.
HELINET Database
Access to Internet, e-mail & CD-ROM.
Orientation
Title Of Contents
LIBRARY STAFF
Library has 08 professional and 06 non-professional staff for providing essential services to the students and teaching faculty of the institute.
1. R.V.Kulkarni                                 -           Chief Librarian
2. Shobha Patil                                -           Librarian
3. N.R.Ambiger                                -           Asst.Librarian
4. V.K.Wadeyar                                -           Asst.Librarian
5. Nanagouda Biradar                                -           Asst.Librarian
6. Bhagyajyoti K                              -           Computer Operator
7. R.B.Math                                     -           Library Assistant
8. M.K.Kolli                                      -           Library Assistant
9. S.R.Desai                                    -           Attender
10. Pandu Lamani                            -           Attender
11. Mallappa Katagavali                   -           Attender
12. S. S.Khandoji                          -          Attender
13. S.K.Kerakalmatti                         -           Binder
14. R.M.Math                        -           Binder
15. M.M. Math                                  -           Binder

LIBRARY AT A GLANCE
Built up Area                                    43,000 sq ft
Seating Capacity                              600 Readers
Total No of Books                            20106
Total No of Journals                         114
Indian Journals                                 67
Foreign Journals                              47
Bound Volumes                               2044 of 178 journals
VCDs                                              60
CD-ROMs                                        306
DIGITAL LIBRARY
Library has state of the art Digital Library section. Digital Library has 50 terminals with Internet connectivity. There is a separate internet room for postgraduate students. This section is holding 306 CD-ROMs apart from that it is connected to HELINET consortia of Rajiv Gandhi University of Health Sciences. The consortium is giving access to more than 900 full text online journals and 800 e-books.
OTHER ATTRACTIONS TO STUDY IN LIBRARY ARE:
# The HELINET Consortium offers 900 plus full text journals.
# Kannada Books.
# English Novels.
# Video Library
LIBRARY BLOG (http://snmclibrary.blogspot.in) Providing medical clippings to user community library has its own blog. User can access latest articles from the blog
LINK FOR OPEN ACCESS JOURNALS:
https://www.ncbi.nlm.nih/gov/pmc/journals/
https://www.ncbi.nlm.nih/gov/pubmed
https://www.doaj.org
https://www.freemedicaljournals.com
https://www.medind.nic.in