HOSPITAL INFORMATION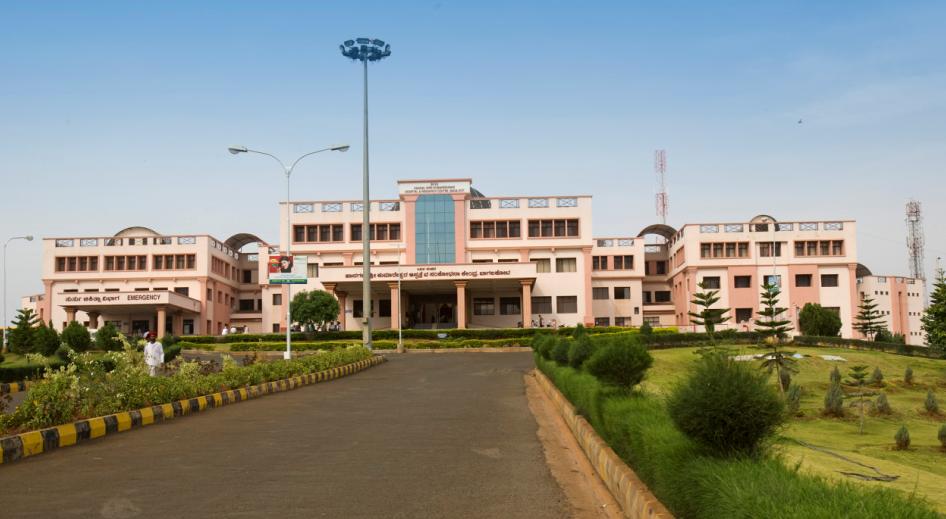 Hanagal Shree Kumareshwar Hospital and Research Centre was established in 2000 in the old campus of B.V.V. Sangha in Bagalkot. At inception it had 300 beds catering the health services to people of Bagalkot and surrounding areas and has grown into an institute of recognition.
The Hospital was christened as Hanagal Shree Kumareshwar Hospital & Research Centre after the great.  Saint his holiness Shree Shree Shree Kumara Swamiji of Hanagal, who him self was a pioneer in treating the ill with herbal medicine, More over he was also one of the pioneer who revolutionized  the concept of Sangha/Trust in starting Educational Institutions in the backward areas for  spreading Quality Education in all fields.
The Hospital and the Medical College were shifted to the new campus in 2004; this campus is spread over an specious area of 114 acres of land situated between the new (Navanagar) and the old city of Bagalkot on an hillock.
Hanagal Shree Kumareshwar Hospital and Research Centre has 750 General beds and 144 Intensive Care beds.  It is an ultra modern high tech tertiary care hospital.  It is equipped with all ultra modern equipments and gadgets to meet any kind of emergency with round the clock service by experienced, well trained, dedicated, staff.
It provides specialist care in General Surgery, Burns, Urology, Paediatric Surgery, Plastic Surgery, Cancer Surgery, Laparoscopic Surgery, Surgical Gastroenterology, General Medicine, Cardiac Care, Diabetic Care, Orthopaedics, Trauma Care, replacement surgeries. Obstetrics & Gynecology, Child health, Physiotherapy, Paediatric Physiotherapy, Ophthalmology, Eye Bank and Corneal grafting Centre, ENT, Psychiatry and Many more branches.
It provides service to below BPL Card holders Through Yeshasvini Scheme, Vajpayee Arogyashree, Thayi Bhagya Scheme, and Balasanjeevini which are initiated by the Government.
It is also impaneled with EGHS Scheme, Military officer's welfare scheme, KSRTC Employees union, TTK, ICICI Lombard for weavers, and many more health Insurance. 
Hospital Services:
It is working 24 X 7 on all 365 days, It is managed by casualty medical officer, who were experienced, dedicated senior doctors. It has facilities to manage all types of emergencies in surgery, General medicine, and Trauma and accident cases. The causality has 20 beds and 6 trauma care beds, and is well equipped with ventilators, deffibillater, monitors with centralized o2, vacuum facilities; it has two operation theaters working round the clock.
To support our causality services are 2 ambulance of which one is high-tech air-conditioned ambulance with ventilator, monitor, diffirilator infusion pumps spine board and all other emergency gadgets   a medicines. A duty medical officer along with a trained nurse is always on duty for ambulance service, 24 X 7 X 365 days.
Outpatient department:
The Outpatient department is housed in a separate building which works from 9 AM – 1 PM and 3 PM – 5 PM on all days of the week except on Sunday and Holidays where the working hours is 10 AM – 1 PM. Each clinical department has a separate wing, comprising of 4 examination rooms, procedure room, demonstration room for students of 40-50 students capacity with all teaching aids. Other than the OPD examination wings, there are laboratory, minor OT's, Physiotherapy center and investigation gadgets like digital X ray, USG, ESWL, Dermatology lasers, Immunization center, ICTC, DOT's centre and infertility clinic. A pharmacy is located in the OPD premise which works during OPD hours.
To facilitate the movement of the patients 2 vehicles are kept for shipfting the patients from OPD to IPD. The functioning of the OPD is managed by assistant administrative officer, the medical superintendent and matron. The Out Patient Department have the following departments.
General surgery, Obstetrics & Gynecology, General Medicine, Pediatrics, Orthopedics, ENT, Ophthalmology, Urology, Dermatology –  General & Laser clinic, Psychiatry, TB & Chest, Dental, Adult and child Physiotherapy, Radio diagnosis & Imaging, Diagnostic Laboratory, Minor OT, Cancer detection unit, Infertility clinic, Super specialty clinic, Pharmacy, Eye bank 

Inpatient Department:
The Inpatient Department is located just beside the OPD. The total floor area of IPD is 305760 Sqft. It has 820 teaching beds and 220 intensive care beds.
Admission Procedures
In case of Emergency, admission will be done at the Casualty through the Casualty Medical Officer. In routine cases, where the doctor advises admission for further treatment, the patient has to produce the admission slip at the, Billing Section for admission in General Ward, Special Clinic for admission in Special Ward. The patients have to select the ward category before admission as transfer from General Ward to Special Ward or vice versa may not be possible.

Ward Categories
Ward categories are as follows
• General wards
• Special Wards
• A/c Wards
I C U
The Intensive Care Services at the teaching hospital provide facilities for
Medical I C U, Intensive Cardiac Care Unit, Surgical I C U, Burns Care Unit, Neonatal I C U, Pediatric I C U, Dialysis

Physiotherapy
Physiotherapy provides treatment for muscular-skeletal, cardio-respiratory, neurological ailments by physical agents like electrotherapy, thermotherapy, massage, traction etc. Gymnasium for exercises, Laser treatment, Obesity clinic, Exercise prescription for diabetes etc is also available.
INFORMATION & CONTACTS