SURGERY
Every Surgeon is a philosopher. He learns his philosophy called "Surgical philosophy" from Surgery and Surgical patient care. His approach to Surgical profession depends on Surgical philosophy and it consists of awareness of flows in Surgical technique and Surgical skills, selection of patients and ultimately to give good quality of life to the patient.
Mission/ Vision
With this philosophy our mission is to produce a competent Doctor's and Surgeons through MBBS and MS course in Surgery. A competent Surgeon is one who: has acquired the competence. Pertaining to the art of science of disease, the ethics and exposure to face the challenges that is required to be practiced in the community and at all levels of health care system.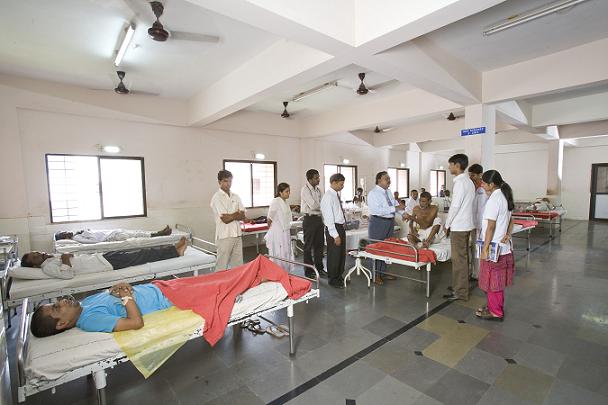 Courses catered:
We have MBBS course with yearly intake of 150 students and post Graduate course in General Surgery with intake of 4-Students every year which has commenced from this year ie 2011 June. We provide one year integrated teaching program in Surgery for 3rd Year BDS Students.
Infrastructure of the department:
We have excellent infrastructure with advanced equipments like laparoscopy, Gastro copy, Colonoscopy, Mammography Colour Doppler 16slice CT Scan & MRI Endotrainer is made available for training the students in Laparoscopic Surgery, Department has high-tech. digital library where in various Surgical procedures by our Surgeons, and other stalwarts in the Surgical field can be demonstrated to the Students,
Our departmental library is well furnished with more than 200 reference books, and text book, The Department is provided with internet facilities for are by staff and students to download and upgrade their knowledge every now and then.  
Academic activities:
We conduct weekly seminars and tutorials for final year Undergraduate students. Bedside clinics and internal assessment are regular events. ( 3 times in each last terms)
For Post Graduate students the academic activities like case presentation, seminars, Journal club, Mortality meeting clinico pathological meetings discussion of rare cases and integrated teaching along with other departments.  CME in Surgery is conducted every year. We conducted the 28th KSC-ASI state level surgical conference in February 2010, the conference was attended by 520 delegates.
7) Achievements of staff
Publications:
1) Role of Splenectomy in Hyper – reactive Malarial Syndrome in Endemic Area of Malaria
Dr. E. B. Kalburgi, Dr. B. V. Goudar, Dr. Y. P. Lamani & Dr. S. M. Goorannavar
Department of Surgery & Medicine, S. N. Medical College and H.S.K. Hospital, Bagalkot
2) Alcoholic Versus Tropical Chronic Pancreatitis
Dr. E. B. Kalburgi
Dept of Surgery, H.S.K. Hospital and Research Centre, S. N. Medical College, Bagalkot, Karnataka.
3) Emergency non surgical treatment for bleeding oesophasgial varices
4) Tubercular liver abscess. A case report
5) Mesenteric cyst a case report.
6) Persistent mullerian duct syndrome with bilateral seminorms.
Dr. Suresh. Basarkod.    Dr. Ramesh. B. Hatti.    Dr. Vishwanath. G. 
Department of Surgery & Medicine, S. N. Medical College and H.S.K. Hospital, Bagalkot
Honours:
                                       
    1) Dr. A. S. Mallapur - Principal, S. N. Medical College, Bagalkot.
 - Fellow of association of Indian Surgery
 - Chairman for state level Surgical Conference held in       
    SNMC
2) Dr. E. B. Kalburgi - Fellow of Association of Indian Surgeons
                                         - Fellow of International college of Surgeons.
Department has a strong faculty position, more than the requirement as per MCI norms along with super specialties in Urology, Pediatric Surgery and Plastic Surgery.
Th teachers at its credit are dedicated, hardworking and committed for teaching, they have the zeal to learn and academically update them selves by attending CME's Workshops & conferences. So that they can deliver the latest knowledge to the students.
CONTACT:
HOD, Department of surgery
S. N.Medical College and H.S.K.Hospital & Research Center, Bagalkot
Contact no: +91-08354-235400/235410 Extn : 1271