PRINCIPAL'S DESK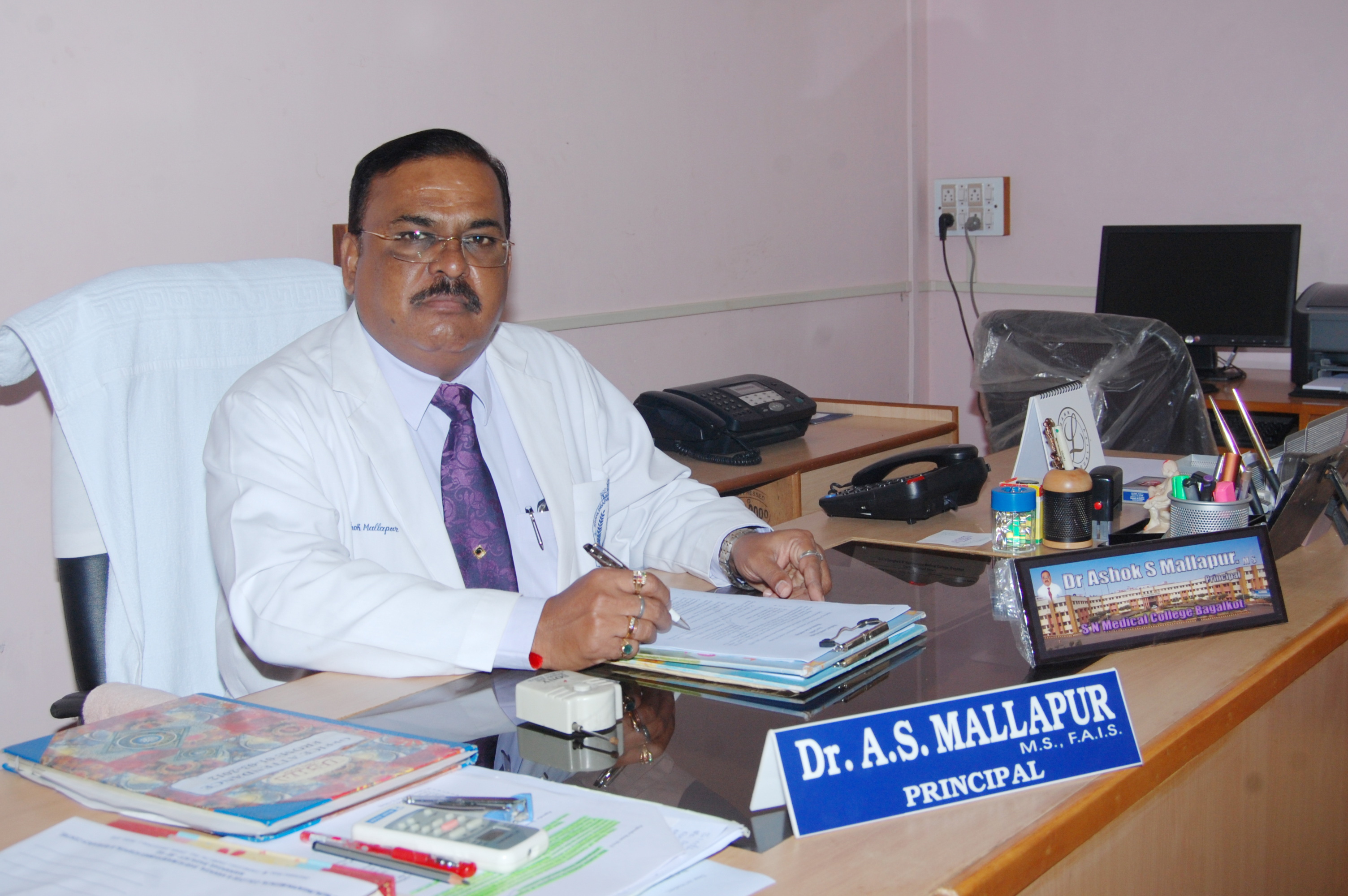 "A warm Season's Greetings"
"Seasons Greeting from S. N. Medical College" Hearty welcome to B.V.V. Sangha's S. Nijalingappa Medical College and Hanagal Shri Kumareshwar Hospital and Research Centre, Bagalkot- Karnataka.
B.V.V. Sangha is the pioneer in starting educational institution way back in 1906, Sangha which is now 115 year old has under its umbrella 162 institutions imparting education from kindergarten to Post graduation in general and professional courses like Engineering, De ntal, Ayurveda, Homeopathy, Nursing, Physiotherapy etc.
S. Nijalingappa Medical College and Hanagal Shri Kumareshwar Hospital & Research Centre is spread over an area of 114 acre of land. It was established in the year 2002 with an intake of 100 students. It has developed leaps and bounds and now the intake in medical college is 250 under graduate from the academic year 2020-21 and 98 Post graduate seats in various Pre, Para and Clinical departments. The college has state of art laboratories and well equipped as per the requirements of MCI/NMC in all the Pre & Para Clinical departments. Individual department have their own individual specious and well illuminated Seminar rooms, departmental museum with good collections of dry and wet specimens.
All the departments have highly qualified staff who are academically sound and follow newer methods of teaching methodologies and innovate newer tools/aids in teaching the students.
A Skill Lab (Simulation Lab) which is recognized as "Jeevan Raksha" Training Centre by RGUHS & University of Otha USA is established to train students in basic skills and also impart training in Basic & Advanced life support skills.
Library is housed in an area of 4000 Sqmts and has regular books and reference books amounting to 21,000, Digital Library with 70 internet stations are also established for both UG & PG students to access online journals.
We also bring out our own journal "Medica Innovatica" a biannual journal both print and E journal which is indexed by 8 i ndexing agencies. Including WHO as International Peer Review Journal. We at SNMC have completed 6 International Research Projects in Maternal & Child Health, funded by Bill & Melinda Gates Foundation, British Columbia University, TRASHER Foundation USA, WHO, Thomas Jafferson University, Philadelphia etc. We have also completed 2 Research Projects sponsored by ICMR one more is ongoing project and more than 25-30 student's ICMR Projects.
Hanagal Shri Kumareshwar Hospital & Research Centre is an state of art Tertiary Care hospital with 1140 teaching beds and more than 300 special and intensive beds.
All the clinical departments are well established with state of art modular operation theatres, well equipped intensive care beds not only in speciality but also in superspeciality sections and laparoscopic surgery. We have an ultra modern fully automated central clinical laboratory (CCL) which aids in investigations of both OPD and IPD patients.
State of art diagnostic equipments like D-Stream MRI, 16 Slice CT Scan, Cath Lab, 4-D USG machine, Digital X-Ray Machines, Endoscopy etc.
We have also Rehabilitation Unit where in adult & Child physiotherapy units, Audiometry/BERA speech & hearing section, and Artificial Limb Centre are e stablished with experienced staff.
Super specialities in Cardiology, CTVS, Neurology, Neurosurgery, Plastic Surgery, Paediatric Surgery, Oncology, Urology, Nephrology and Endocrinology sections are established in HSK Hospital to cater in the need of the community.
We have an NGO established and have adopted more than 50 children who are given free treatment for Haemophilia & Thalassaemia, and also take care of malnutrition in children & adolescent women and mothers.
Well established Blood Bank where in whole blood and components are made available to our patients. S. Nijalingappa Medical College has a memorandum of understanding with university of Manitoba, Canada for exchange of students, teacher and research programmes.
With all these facilities the students are exposed to higher academic standards, trained well in the skills, so that they flourish successfully when they start their practice. All this can be achieved because of the foresight of our beloved Chairman, Dr. Veeranna Charantimath MLA, he not only guides us but also encourages us to develop the institution as one of the best institute in Karnataka imparting education of high standards.
Our valued, young enthusiastic faculty members are the most important contributors for the overall development of the institution. In SNMC we work as a family and mould rough stone into precious stones. With warm regards, Dr Ashok Mallapur- Dean Together we shall achieve more.